La Guillette,

 house of Maupassant in Etretat
The house by François Tassart, Maupassant's valet:
My master touches my arm : « Look down there, at the bottom of the valley, it's La Guillette, my
house, that I really like ».
We are first arrived at Etretat; my master takes the opportunity to rest and work on a new one of
this chronicles…
His garden occupies him; he spends hours with Cramoyson, discussing the locations for the summer
beds. He goes around his garden several times, visits his goldfish, returns to bathe his eyes; often he
writes until 11 o'clock, then he takes his tub in cold water, makes his toilet and lunch. After which,
he fires every day his forty to fifty bullets with the pistol …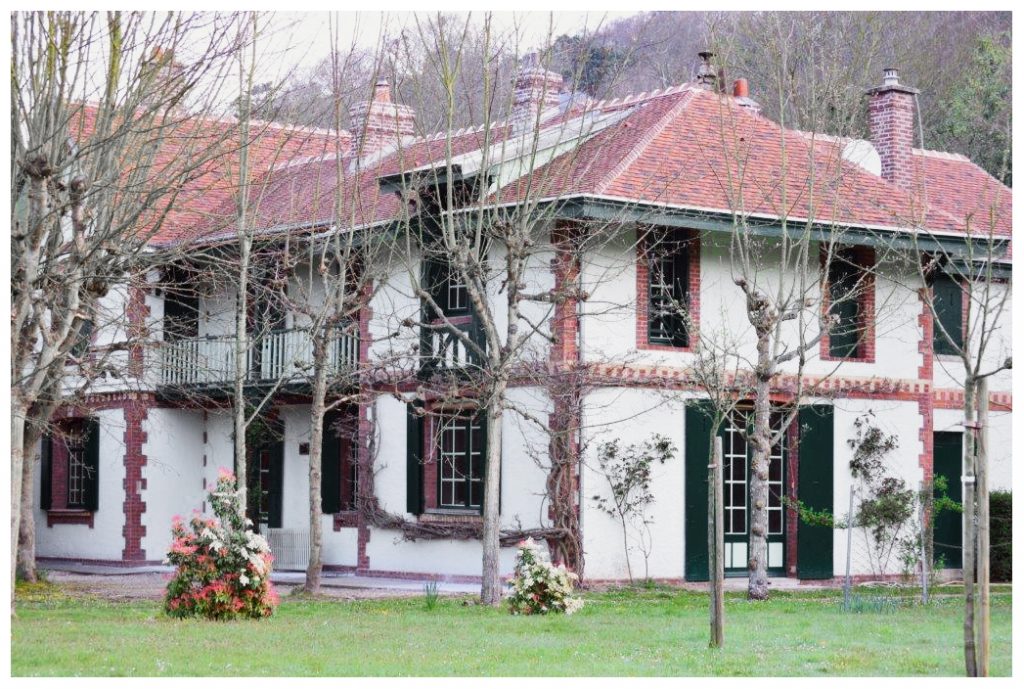 History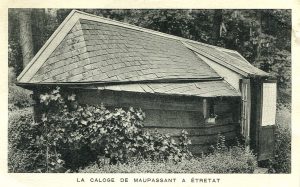 Laure de Maupassant, Guy's mother, moved to Étretat rue Notre-Dame in the villa Les Verguies in
1860 with her two sons Guy and Hervé.
A few years later, she decided to build a vegetable garden in the Grand Val on a land acquired in
1872. This garden was a simple strip of land with a hut for the manager.
From 1875, Maupassant gave parties with his friends in this hut and in 1882 Laure decided to sell
him the land where he wanted to build a house.
In April 1881, Guy de Maupassant published the story "La maison Tellier", which he would first
propose for the name of the house that he built. But these friends (including Hermine and Clem) and
his mother advised against it, it is following this story that La Guillette was chosen as the name for
the house.
Guy lives in his new home all summer and fall of 1882 to prepare his first novel Une Vie.
In October 1882 he had a caloge installed: a boat that was no longer sailing.
In the spring of 1883 he enlarged his suite to the fire, Then in 1887 he created the current facade.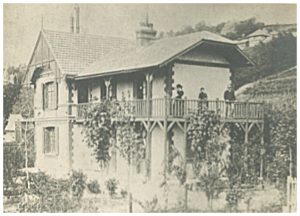 For 14 years Guy de Maupassant received his friends, organized many festivals and wrote many
works like Pierre and Jean written in August 1887, Bel Ami in 1884 or Le Horla.
At the end of his life Maupassant wanted to give his house to his valet François to make a memorial
to the glory of Maupassant.
It is 120 years later that the house became a place of memory in respect of the last wishes of Guy de
Maupassant.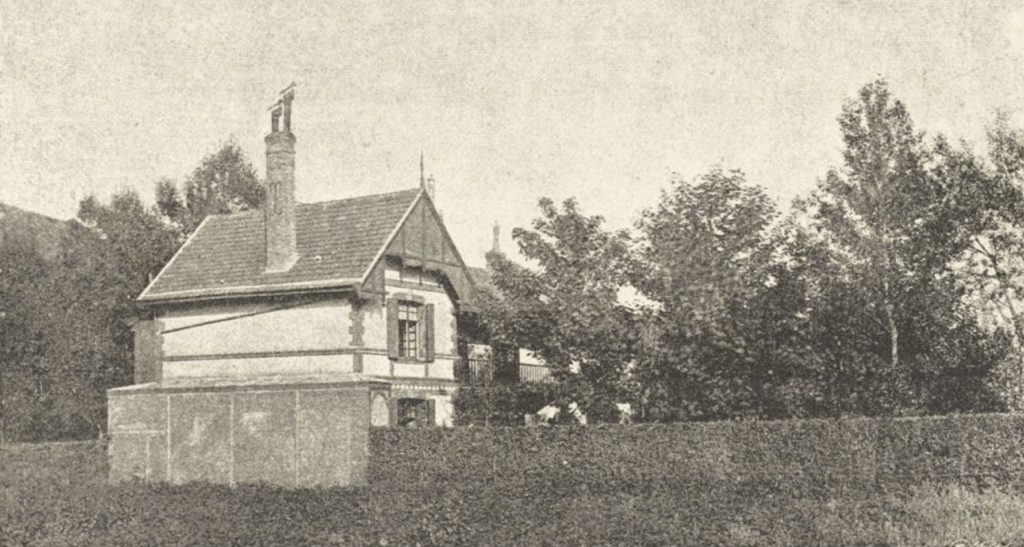 When Guy de Maupassant died in 1893, his parents decided to sell La Guillette to help Hervé's
daughter.
On August 4, 1894, the house was sold to Victor Desfossés, publisher.
Until 1900, the house was rented every summer by summer visitors.
In 1900, the house was sold to Mr. Coutant. This person was described as an admirer of
Maupassant, so much so that he took himself for Maupassant, which made him a little crazy.
In 1920 The house was bought by Mr. and Mrs. Mitchell who had a house with still many memories
of Maupassant (including paintings of these friends and some furniture). They started to make this
house live by giving it its present appearance.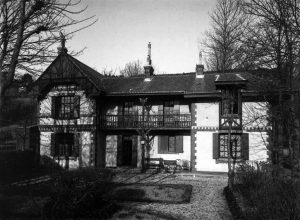 During the 2nd World War, the house was inhabited by a German general and his family who loved
Maupassant. At « the debacle » the house was looted and at the arrival of the Americans there was
not much inside. From 1943 to 1946 the house was a hospital for high-ranking Americans and
English.
1950: Centenary of the birth of Maupassant. On this occasion Mr. Mitchell organized visits to the
house at the same time as the exhibition on Maupassant who was at the town hall. It was Mr.
Dupuis who organized this exhibition. It is probably at the same time that this artist decided to paint
one of these works in La Guillette. Then the house passed to Mitchell's daughter, Miss Mitchell who
continued to live in the house.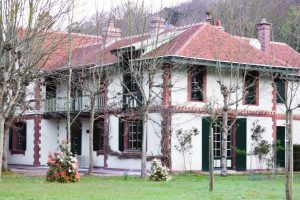 The house was passed on in 1995 to Mrs. Vieuxtemps, the goddaughter of Miss Mitchell.
Between 2007 and 2010, the house was put on sale and a long debate began to know if the town hall
could create a museum Maupassant.
Since 2010, the house is a private property, open to visits in 2014 by the association The Friends of
La Guillette which aims to discover this place.

Contact & visits
The association of friends Guillette created in 2014, organizes throughout the year tours of the
house.
If you are interested, fill out the form with your surname, first name, email, and your visit request.